These air cooled JAP engines were manufactured by J.A. Prestwich & Co Ltd, of Tottenham.
Their promotional material claimed that the JAP engines are first in the field for driving all kinds of Agricultural machinery with economy and efficiency.
Just About Perfect – for every power purpose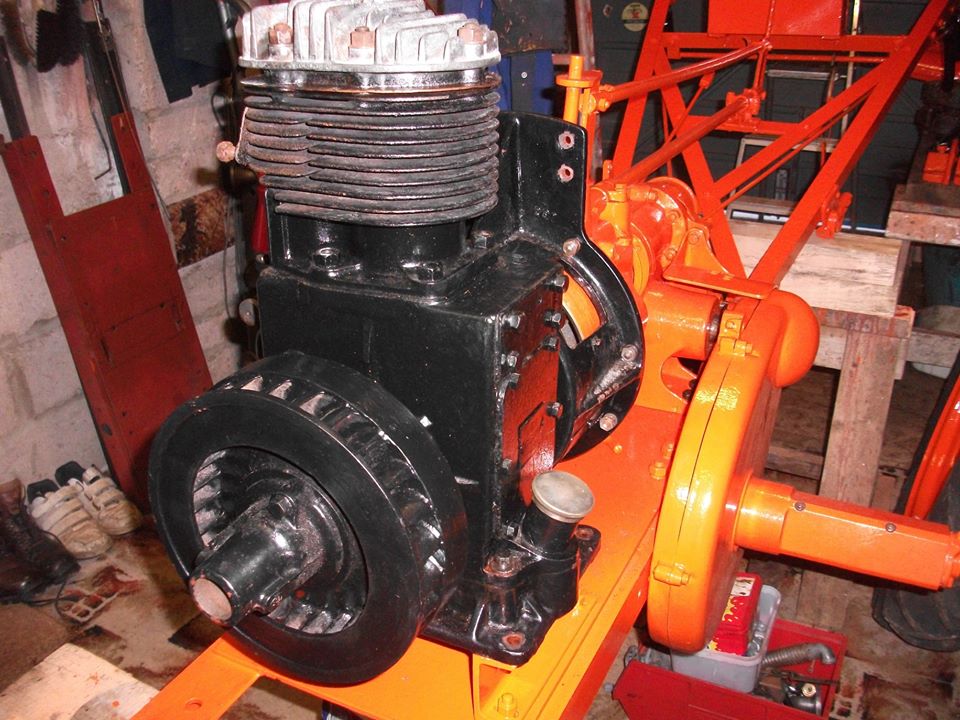 Bore 80mm ( 3.15 in )
Stroke 82mm ( 3.23 in )
Capacity 412cc ( 25.14 cu in )
Weight (dry) 55.5kg (122 lb)
Power rating 4.5 HP @ 2,200 rpm
Sump Capacity 1.3l (2 pints)
Ignition Wico Type CJ936 impulse magneto
Ignition Timing 20* B.T.D.C.
Carburettor Zenith Type 24T-2 or Amal 379 or Villiers B 1320 ( Also a JAP carb fitted on some earlier engines )
Sparking Plug Champion L10 , 14mm , 0.20 in gap
Rotation Anti-clockwise looking at the drive shaft
An engine number is stamped directly on the engine housing. From this , it is possible to determine the year the engine was manufactured.
When these JAP engines were manufactured the recommended spark plug was either a Champion L10S or a Lodge H14
The Champion L86C is a modern day equivelent.
These are special copper core plugs compatible with a Magneto.
The modern equivalent for the Lodge plug is a Lodge b6hs
My engine came with a new HT Cable ( see the yellow High Tension cable running from the Magneto up to the Spark Plug ) This cable was a modern type composite cable and the plug top cable termination was an original Volkswagon one which contained a resistor (used to surpress radio interference). I replaced this cable with a solid copper one with a direct connection termination to the plug. This is the type of HT Cable that was originally fitted to these engines. On Magneto engines, it is recommended that no resistor is fitted at the plug cap.
These are some of the photos that David took while he striped down and rebuilt the engine
Some photos below from Marc Jon Midleton's FB page showing his engine being stripped down.
As these engines are air cooled , a good flow of air is very important. The air is "pumped" by the engine front mounted fan, pulling in air thru the front grille and circulating it over the engine and cylinder fins. The photos show the job David did on this engine cowl.
Jap 5 Engine cowl refurbished by Barry Barrington
This engine uses an aluminum Head Gasket
Pic of aluminum Head Gasket, as removed by Joe Graham , April 2020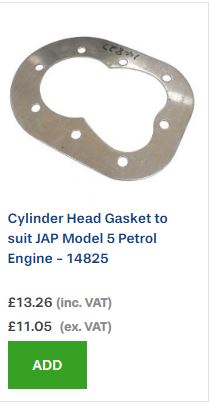 The valve box is accessible on the side of the engine by removing the steel plate cover. The specified valve clearances are stamped on the inside of the cover plate. Inlet Valve 0.010″ , exhaust 0.020″ This is a good photo of the inside of the cover plate taken by Joe Graham.
An oil bath type air intake cleaner is fitted. This is particularly good in dusty conditions. Only a small amount of oil is required in the base of this air breather for it to operate effectively.
This tractor is fitted with a silencer box on the exhaust outlet. The exhaust exits the engine on the RHS exhaust port and travels over the top of the engine to the silencer box mounted on the LHS.
The exhaust silencer box may be one of the things to fail. Here Phil Harding AKA Ritual posted details of this replacement exhaust box , on the Tracorbox forum back in 2009.
John Prestwich, an engineer, commenced manufacture of scientific instruments in 1895, when he was 20, initially behind his father's house at 1 Lansdowne Road, Tottenham, London. By 1911 he had moved to new premises in Tariff Road,[1] within the Northumberland Park area of Tottenham, London, and which still exists as of 2015. Prestwich was initially best known for his cinematography cameras and projectors. He worked with S.Z. de Ferranti and later the cinema pioneer William Friese-Greene.
Circa 1902 J.A.Prestwich and Company began manufacturing motorcycle engines which were used in many motorcycle marques. The motorcycle engines were associated with racing and record success and were used in speedway bikes into the 1960s. Prestwich also made engines for aeroplanes.[2][3] In 1919 Prestwich formed Pencils Limited to exploit his invention of new machinery and the company made Master Pencils, also in Tariff Road. In the nineteen thirties engine production increasingly focused on small industrial and agricultural engines.[4] During WWII Prestwich produced around 240,000 industrial petrol engines in support of the war effort, together with millions of aircraft parts, fuses, etc.[5]
In 1951 the assets of J.A.Prestwich and Company Limited and Pencils Ltd were taken over by J.A.Prestwich Industries Limited which was registered on 23 April 1951 and floated on the London Stock Exchange shortly after. By 1957 practically all the shares in the company had been acquired by Villiers Engineering Company Limited of Wolverhampton, which also made motorcycle and industrial engines. The engineering works in Northumberland Park closed in 1963 and J.A.Prestwich Industries Limited was liquidated in 1964.